Customers bring many different needs, interests and attitudes. Being "Customer Smart" with them all, customers will not only get great service; in addition, they will respect you, and you will leave the interaction knowing that you completed "a job well done!"
Why focus on customers?

Many of us who choose to work with animals do so because we love them. We either sheepishly or proudly confide that we like animals more than people.
We soon learn this reality: Defending and caring for animals is only half of the job. Working well with people is the unexpected other half.Therefore, knowing how to work with animals and people can bring incomparable rewards. Rewards come in all forms, but none better than knowing that an individual animal's story has a happy ending.

The challenges of working with the public are also varied. We work with customers who are impatient, angry, defiant or grief-stricken and we often have to guess which.

Dealing with the public means enjoying the rewards and rising to the challenges.

If we conduct routine interactions well on a daily basis and, in addition, can deal maturely with even the most difficult customer, we help the animals over time --more adoptions, a larger cache of volunteers, more donations, positive perceptions of shelter staff, and a supportive community.
Why an entire book on customer service for animal shelters?

Because few books exist that deal with customer service from the perspective of someone who works at an animal shelter.

Each chapter of the workbook "Animal Friendly-Customer Smart: People Skills for Animal Shelters" covers content relevant to everyone who works or volunteers at an animal shelter in any capacity, whether in the field, the clinic, the front office or supporting offices because we share equal responsibility for customer service. While seminars are always helpful, the workbook is designed specifically to be used at any time in all departments and for all staff and volunteers. It can be used to train new staff, to address problem areas for existing staff, or during department meetings.
Because the animal sheltering world is unique, this workbook takes an unconventional approach to customer service called Customer Smart. You are already animal friendly. The workbook will help strengthen your skills with people under even the most difficult circumstances.
The animals benefit if we deal well with the people!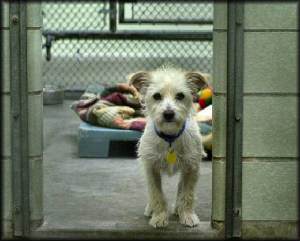 "Toby Waits," award winning photo by Sumner W. Fowler, Animal Photographer